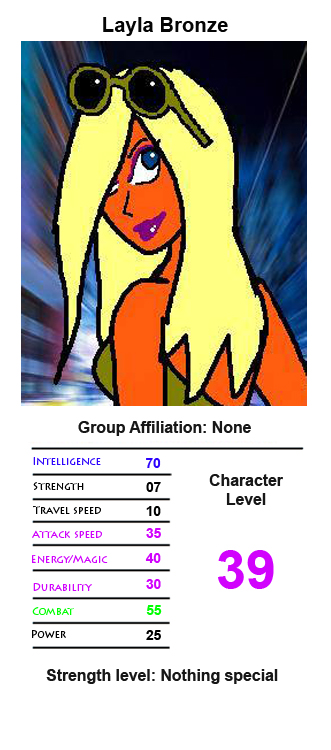 Created by: Mark Cardoso

First comic book appearance: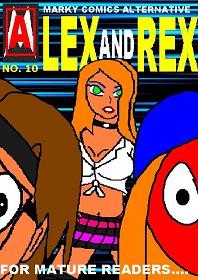 Real Name: Layla Bronze
A.K.A.: Prime Zenith
Hair: Blonde (bleached)
Eyes: Blue
Height: 5 foot 8 inches
Age: Unknown
Country of Origin: USA

Ethical alliance:

Good



History

Layla Bronze is a retired super hero formerly known as Prime Zenith. Layla gave birth two known children in her current household. Her son Larry Bronze aka Muscle Man ( his father is Mr. Hero) and Sissy Bronze aka Leopard Woman ( her father is rumored to be alien).

As Prime Zenith, Layla helped many a super hero teams with her martial arts and stealth skills but the hero work was giving her stress( and wrinkles) so she retired as a super hero and took up a teaching at Super Hero University. It was during that teaching period he ran into Mr. Hero and after some private meetings Layla was pregnant with her son Larry. Mr. Hero was still married, so they sent Larry into the future at the future baby drop off center to be retrieved at a later date.


Powers

Healing factor: Layla's true super power is eternal youth. She is a walking fountain of youth with a power that makes her look 25 forever. She also has a healing factor that cures wrinkles, blemishes and scars. No one knows Layla's true age, not even her children.

Martial arts: Layla knows martial arts and stealth skills from training with other super hero teams. She can take care of herself.


Weaknesses: Layla tends to get stressed out during extreme situations thus why she retired from being a super hero and stuck to teaching. When she retired from teaching, Layla most spends her days living the good life with open bubbly personality and using youth ability to meet new people and having fun. When she gets stresses out, Layla starts to get wrinkles and showing her true age.