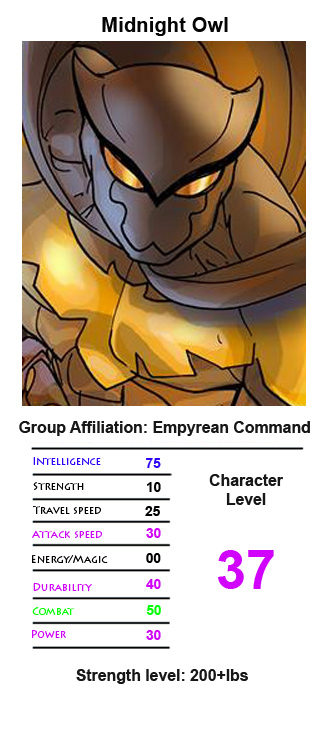 Created by: Cuong Nguyen

Other Picture:

First appearance: Power Company #1








Real Name: Timothy (Tim) Wilson
Hair: Blond
Eyes: Black
Height: 6 foot 2 inches
Age: 35
Country of origin: USA

Ethical alliance:

Good




History

Tim Wilson is a detective working for the Midnight City Police Department but his life took a different turn when he began to delve into the activities of a newly formed organization called the Paradox. As a rule, Tim never took his work home. He made the most of dissociating himself from the horrors he saw each day by spending time with his friends and enjoying his off hours as best he could.

He had been raised in an orphanage but had never considered himself alone. His two best friends had also come from there as well. They had shared a similar past and, like him, had eventually made a good life for themselves. Jack had become a scientist and worked in the famed King Enterprises and John had become a Middle School teacher. The three had been friends since they were kids and considered themselves a family and a happy one at that. But as most things in life, happiness doesn't last forever.

One night, as the three of them were out for a drink, they were ambushed by Paradox forces. Tim's involvement in their activities had reached a critical point and the Paradox had decided to retaliate. Hopelessly outnumbered, they tried to fight back but were eventually gunned down. Thankfully, the police arrived before the Paradox could finish what they had started.

Tim survived but his friends had not been so lucky. John was dead and Jack
had taken a bad hit and was now paralyzed. He would need to sit on a wheel chair for the rest of his life.

Tim would not let the Paradox get away with what they had done. He swore that he would avenge his friend's death and Jack agreed to help. Since Jack had access to King Enterprises, he helped Tim acquire new techs to use in his fight for justice.


Powers

Power accessory: Midnight Owl uses special equipment and accessories in his fight against crime.

Super jump: A pair of boots with neural interphase allows him to run faster and jump higher.





Paraphernalia: His suit is equipped with various accessories and gadgets but chief among these are his boots with neural interphase.

The neural interphase enables the boots to bond to his neural network and essentially they act as a part of his body. They give him better control and

balance as well as the ability to clench objects as if he was barefoot.

Midnight Owl also wears a pair of Talons made of CPM S30V steel.

His military-grade goggles give him night vision and also have zoom capabilities to allow him to see from a distance.