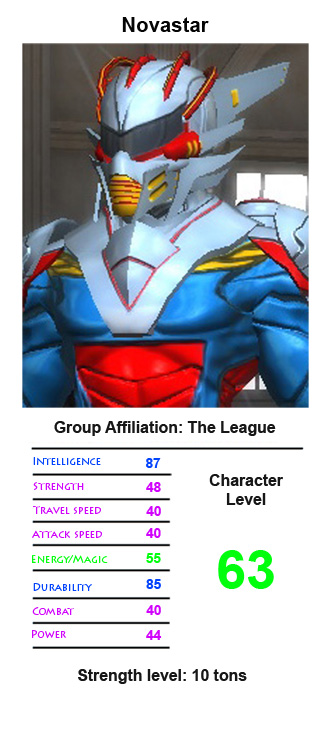 Created by: Brian Hitsman

First appearances:
Global Defense Force Webcomic #7

Other Picture: Novastar full body















Real Name: Novastar
Hair: Unknown
Eyes: Unknown
Height: 6 foot
Age: 29
Nationality: USA

Ethical alliance:

Good




History

Novastar is an inventor with a small fortune given to him by his parents and began working on a exoskeleton for military applications.

Nothing seemed to work out exactly how it was suppose to, but after the event in Las Vegas, things became clear. Novastar's problems worked themselves out and he created the NOVASTAR armor.

The US Armored Forces considered the armor too expensive to make for soldiers everyday occurrences but they did offer Novastar a job in The League, a super powered division controlled by the US government.

Novastar is currently working on a Novastar LITE model for everyday soldiers.


Powers


Enhanced intelligence: After the event of Las Vegas, Novastar's intelligence was enhanced.

Power Armor: Wears a state of the art full body exoskeleton quiped with offensive weaponry.

Flight: Armor is equipped with a propulsion system, enabling him to reach mach 1.

Energy blasts: Armor is equiped with a machine gun energy blaster able to shoot 30 shots in 10 seconds

Physical resistance: His armor is denser than normal and can take severe punishment. It is also sealed and can provide protection from hostile environment for 4 hours.

Super strength: With the armor he is capable of lifting weights in the 10 ton range.


Weaknesses: Without the armor he has no powers except his intelligence.



Armor will not work w

ithout the Helmet.