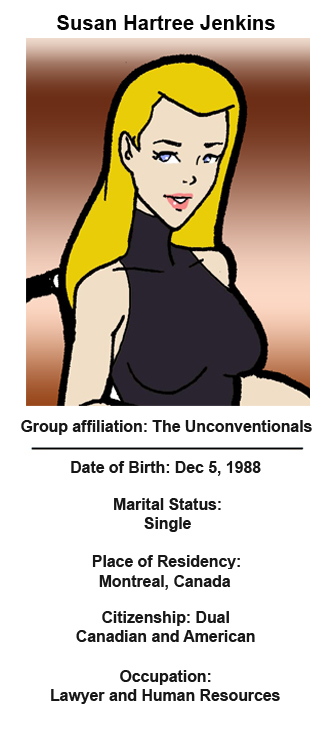 Created by: Lawrenz Lano

First appearance:
The Unconventionals #1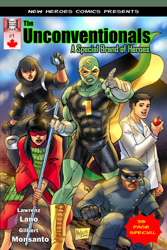 Other Picture: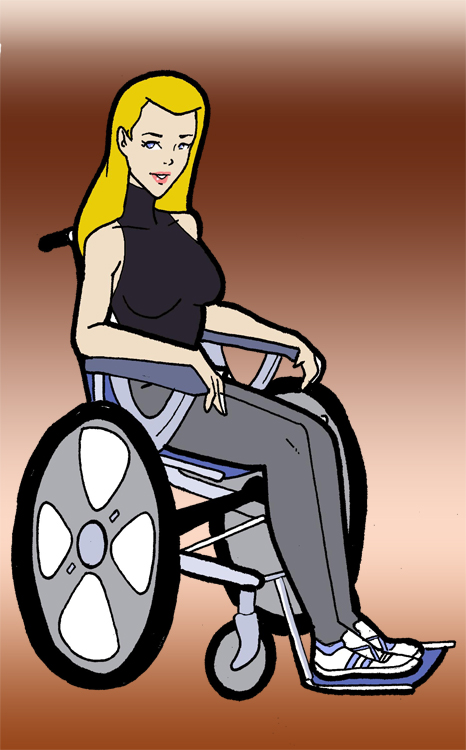 Art done by:

John Ridley







Real Name: Susan Hartree Jenkins
Hair: Blonde
Eyes: Blue
Height: 5 foot 10 inches
Age: 28
Born in: USA
Occupation: Attorney
Familial links: Aunt (Karen Jenkins), uncle (Carl Jenkins)
Base of operations:

Pointe-Claire, Canada



Ethical alliance: Good


History

When she was three, Susan was hit by a drunk driver and has been crippled ever since. Her spinal cord was shattered, and she spent her whole life in a wheelchair. By the time

she was 13, s

he had lost her parents and moved to Montreal, Canada to live with her aunt and uncle, Karen and Carl Jenkins.



The Jenkins were very kind to her and were very supportive. They treated her like the daughter they never had and guided her in all aspects of her life and academic career.

Susan never let her disability hinder her. She enjoyed life and loved helping others. And in turn, others helped her as well. She became well known in certain circles and people always knew who to go to for starting fundraisers. Susan had an infectious kindness that made people want to help, and that was why her fundraisers were always a success.

It was shortly before she started college that Susan managed to get rid of a speech impediment that had bothered her for years. She now felt ready to embrace the career she had always wanted. She studied hard and achieved her goal ahead of most people. At 23, Susan had passed the bar exam and became a public defender in order to help the needy.

When she got word that a centre for the disabled was involved in a legal battle, Susan offered her services. She was impressed by the young man she was to defend. He was sixteen years old and severely disabled, although he did manage to hide it quite convincingly. Along with

his 22-year-old autistic friend, the two

had opened the centre

in order to help out the disabled.

It had not, however, been done in accordance with the law. The centre in question was an old house that belonged to the autistic friend and many security features were lacking.

Susan managed to rally support for the two young men and started a fundraiser to amass the funds necessary to bring the place up to the required standards. Many celebrities showed up, as well as some rather famous disabled people. The fundraiser was a success and the centre was allowed to remain operational.

Susan became a permanent employee of the centre and soon learned that it was also something more. The centre was the base of operations of a unique crime fighting team. Going by the name, The Unconventionals, the two young men, Alex (aka Ricochet) and Zack worked in unison to find other gifted disabled people to join their ranks and make a difference.



Unlike her alternate reality counterpart who became the guardian known as Hartree, this Susan Hartree did not.


Powers

Susan has no special powers.