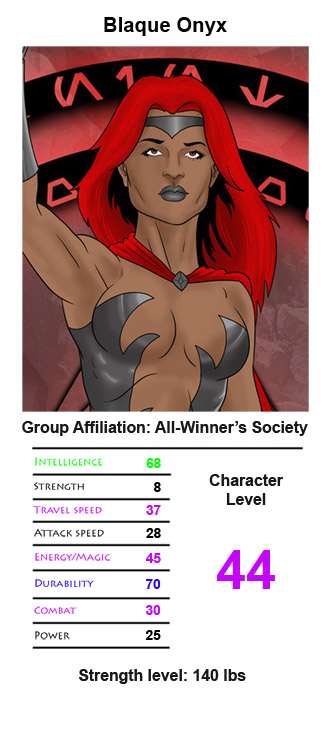 Created by: Rodney Lockett

Other Picture:
Real Name: Mackie Williams
Hair: Red
Eyes: Brown
Height: 5 foot 9 inches
Age: 25
Country of Origin: USA

Ethical alliance:

Good




History

Mackie was part of an archaeological team digging in a new-found area of ruins pertaining to the ancient Maya civilization of Edzna. During the dig, they had found some remarkable treasures but none were like the one Mackie had.

Having sprained her ankle a few days earlier, she had selected a secluded spot to do her digging. She had been unearthing one of the many pottery pieces they had found, when hers broke. She cursed her clumsiness but her anger came to a halt when she saw what was inside it. A black onyx stone intricately carved seemed to call out to her and as she moved her hand towards it, the stone started pulsing.

In her the excitement, she caressed it and realized her mistake when the onyx stuck to her hand and started to slowly seep into it. Terrified, she tried to remove it but the stone seemed fused to her hand and after a few seconds it was totally absorbed into her body.

Mackie calmed down as she realized that the stone was not causing her any pain. On the contrary, she was in no discomfort at all. Even the pain from her twisted ankle was gone. But the screams of fear she had cried out had not gone unnoticed. Her colleagues, who had rushed to see what was the problem, stood stunned as they came to her.

Mackie looked around and everyone was pointing at her but why were they pointing towards the ceiling?

She was above them, floating. Was that the reason she felt no pain, was she dead? She knew she couldn't be if everyone still saw her and as she calmed down her feet returned to the ground.

She was immediately taken back to the United States where tests were run on her. From what they could discern, Mackie now had the ability to heal herself and fly. But when they had tried to insert a needle through her arm, another ability manifested itself.

Mackie hated needles and as she saw the nurse preparing herself for the injection, Mackie's skin became covered with a hardened shell. The shell was clear and transparent and had the glossy look of a polished rock.

The barrier was very strong and could stay up as long as she willed it and after further tests, it was discovered that she could put one of these barriers on other people with a simple touch, though on them, they only lasted about 15 minutes.

The coating also helped heal them but at a much slower rate than herself.

After they were done with their tests, she was placed with other special people like herself, the All-Winners Society, where she learned how to better use her abilities.


Powers

Flight: Blaque Onyx can fly and reach speeds of around 300 mph.

Barrier: She can erect a clear glossy barrier around her body for protection. This barrier can be placed around other people as well.

Healing: Her barrier has healing properties which can repair most wounds over time.

Physical resistance: Her barrier is highly resistant to physical and energy forces but since it is close to her skin, it does not fully nullify the damage. The shell is virtually impenetrable but the skin and bones of the subject still feel the impact.


Weaknesses: Blaque Onyx dpesn'o really doesn't have any offensive powers so even though she is hard to kill, she really can't do any serious damage to anyone else.