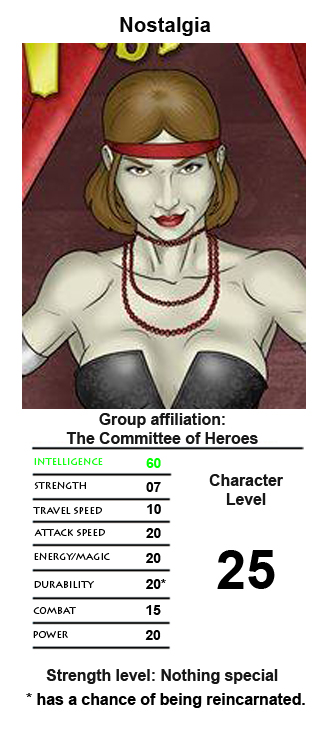 Created by: Samuel Bruch

Other Pictures: Nostalgia full body






































































Real Name: Victoria England
Hair: Brown
Eyes: Grey
Height: 5 foot 7 inches
Age: 29 as Victoria
Country of Origin: Spain

Ethical alliance:

Neutral




History


Hundreds of years ago, a Spanish gypsy by the name of Florica, was granted special abilities which she used to lead and protect her clan. Upon her death, she did a hex on herself, granting her the ability to reincarnate and thus, keep watch over her clan. The descendants of her gypsy group became blessed once per generation when one of their own received Florica's empathic abilities.

Today,

Victoria England is the new reincarnation of Florica.

As all those before her have done, Victoria was selected to lead and protect her gypsy group by using her empathic abilities and the complete memories of all her past lives.

But Victoria failed and was kidnapped by the Slum Lords of Lower East Quincy. They had learned of her gifts and wished to have control of them. This separated Victoria from her group and without her protection, the group was quickly imprisoned and charged for crimes of trespassing and theft.

Victoria eventually freed herself from the Slum Lords but she was far from home and could not locate her clan. Unaware of their status as prisoners, she found refuge in the city and was rescued by the super team, The Committee of Heroes.

As she settled in her new life, she took on the name of Nostalgia, reflecting her longing to return home. She began a platonic relationship with her teammate, the Weekend Warrior, and is often teamed up with him.


Powers:

Empathy: Nostalgia has a very specific form of empathy. Her ability enables her to plant pleasant thoughts and feelings inside people, making them compliant to her demands. The closer you are to her, the more pleasant thoughts you will have.

She can also affect people from a distance, usually to distract them, but if she physically touches them, they can be trapped in a pleasant memory for hours.