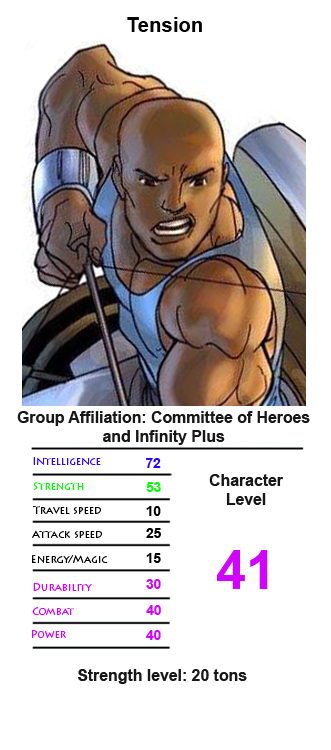 Created by: Samuel Bruch

Other Pictures:
Tension full body

Comic book appearance:

Cop#2 Volume 2 (coming soon)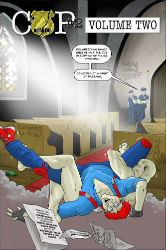 A.K.A.: Powerhouse
Real Name: Professor Henry Jensen
Hair: None
Eyes: Brown
Height: 6 foot 6 inches
Age: 42
Country of Origin: Canada

Ethical alliance:

Good




History




Professor Henry Jensen once went by the name Powerhouse due to his super strength. He fought on the streets along side his husband and partner Keen Eye, an archer hero with perfect accuracy. Sadly falling victim to the trap of the crazed villain Psycho Opossum, Keen Eye was killed, and Powerhouse was crippled when

Psycho Opossum sliced into his stomach.



Not wanting to give up and to honor his fallen husband, Henry took up the bow with his own designed armored wheel chair. He is not accurate by any means with the bow, but with enough impact, you just have to get close.



Henry joined the Committee of Heroes as a way to cope with his recent loss. Acting as a mentor for younger heroes, Henry has taken residence in the Rockwell Facility. He gave up his job as a professor of electronic engineering and social Science, both of which he holds doctorates in.

Tension has a close relationship with Irony and the freelance hero Take Out (due to rolling with Take Out back in his Powerhouse days). Tension gets very irritated with Weekend Warrior due to wasted potential.


Powers:

Super Strength: Tension is super strong and can easy lift the cab of a semi and throw it, however, he is limited by his paralysis.

Martial arts: All his fighting skills were learned from growing up in the crime district of Ontario, mixed with years of outlet mall karate shops.


Weaknesses: Limited by wheelchair. Tends to under estimate his opponents' intelligence. Prideful. His super strength does not make his skin any more durable than a normal humans.


Paraphernalia: His thirst for knowledge and invention paired with his expertise and quick learning, helped him design and build his "Rumble Chair" a heavy duty tank of a wheelchair that can handle his raw strength as well as his Dura-Bow, and thick titanium enforced Impact Arrows.