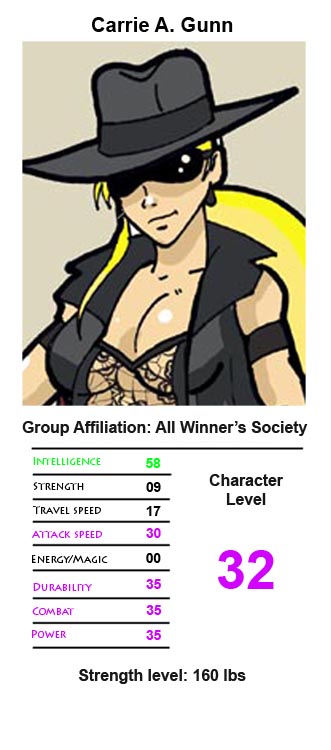 Created by: Rodney Lockett

Other Picture: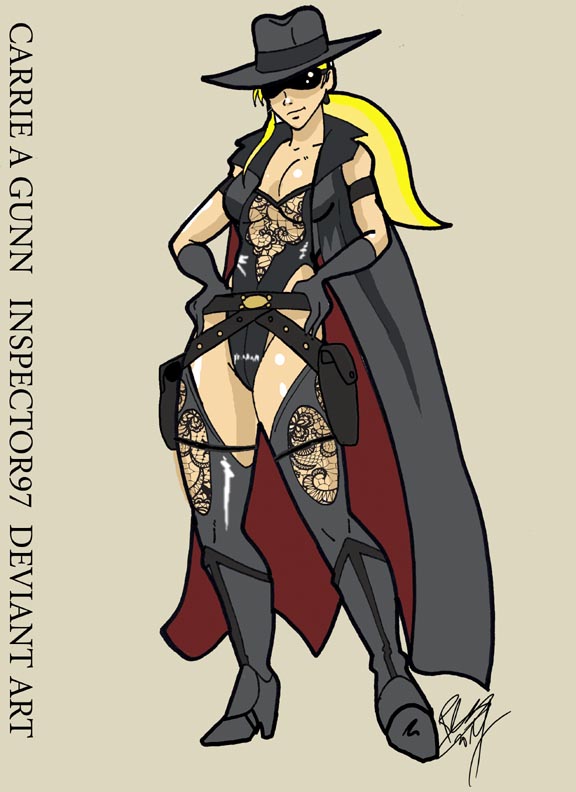 à
Real Name: Carrie Ann Gunn
Hair: Blonde
Eyes: Blue
Height: 5 foot 8 inches
Age: 22
Country of Origin: USA

Ethical alliance:

Good




History

Carrie Ann Gunn was born on the Gunn cattle ranch in Houston Texas. She is the grand-daughter of the famous hero gunslinger Texas Two Gunn and his wife, the famous Minute Girl, both of whom were part of the original All-Winners Society.

After Minute Girl passed away, Texas Two Gunn retired from the AWS to spend more time at the ranch with his remaining family. Carrie had also lost her father, so Texas Two Gunn decided to raise her as if she was his own daughter.

When Carrie was fifteen, Two Gunn's arch enemy Poison Arrow, ambused him at his ranch with her ninjas. Still very bitter from several defeats at Two Gunn's hand, she had no qualms about killing him in front of his grand-daughter. Carrie rushed to his side, and as she frantically tried to stop his bleeding, she swore that she would avenge him. Poison laughed and just walked away.

Having been taught to wield guns from an early age, Carrie honed her skills and once ready, decided to take up the mantle of her grand-father by joining his former team.


Powers

Accuracy:

Carrie was trained by her grand-father and is a expert marksman with firing guns and has a uncanny abilty to hits any target whether she is moving or the target is.




Weaknesses: Carrie possesses no special abilities. She is an ordinary person trying to do extraordinary things.

Her bullet-proof coat does not cover her up completely.


Paraphernalia: Like her grand-father, she uses duel pistols with oversized clips. She also wears a trench coat made of a bulletproof fiber that helps protect her from injury.